4 Ways Memorial Products That May Help with Holiday Blues
As you prepare yourself for the coming holidays, where the absence of a loved one can be so acutely felt, having some strategies to deal with holiday grief and disrupted traditions can help. Our last blog post,
4 Comforting Practices to Help With Holiday Grief
, touched on some ideas. Here are some follow-up suggestions for
memorial products
that may be part of the path forward, while still remembering holidays past.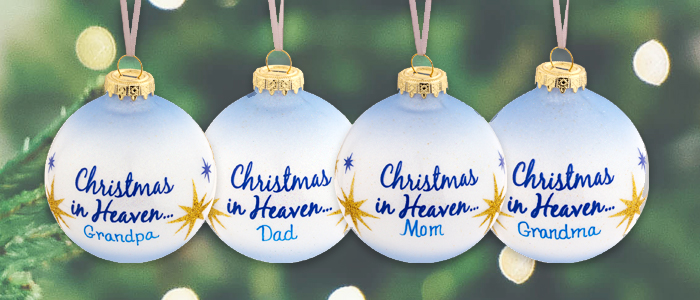 Personalized

Christmas ornaments

like the Christmas in Heaven series help you to remember and celebrate Grandma and Grandpa-- as you decorate the tree, thinking of your beloved relative.


Engravable photo frames

hold a photograph of your loved one - while allowing space for a heartfelt message. In this age of digital photography, a traditional framed portrait on display may be a comforting reminder of a dear one. The photograph can encourage conversations and sharing of memories.

Using

cremation jewelry

to keep a memory close to your heart may provide solace. Memorial jewelry holds ashes, dried flowers, or sand/soil from a special place--a wearable sentimental memory. Read more about the comforts and uses of cremation jewelry.
Keepsake

and

memory boxes

have compartments for treasured items to be kept. This holiday, consider creating a memory box for yourself or as a gift--include photos of your loved one, personal notes, and trinkets. The act of collecting the items and making a physical memorial may be a welcomed creative project. A way to feel close to the one you loved.