Burial vs. Cremation Costs - A breakdown
Is a traditional burial more expensive than cremation?
The traditional funeral is arranged through a funeral home with visitation, a service with the deceased in a casket, and a burial in a cemetery. A traditional funeral with viewing and burial can cost on average between $7,000-$10,000.
Opting for cremation can reduce the cost of a traditional funeral home service by an average of $1,400. Cremation is less expensive in general because families are not paying for embalming, the casket, the hearse, burial, and the added time from the funeral home staff.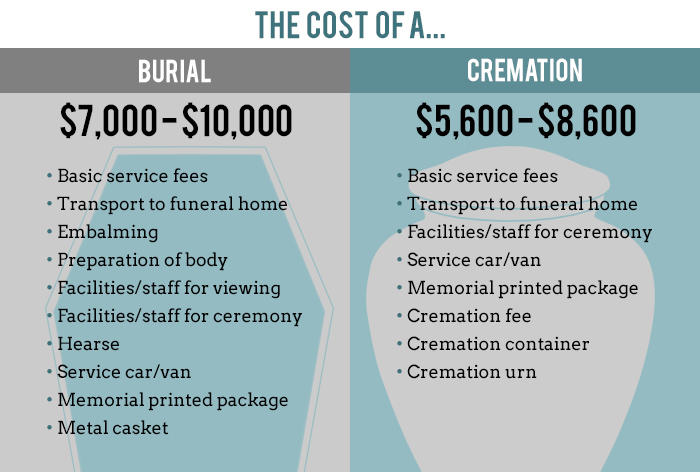 Reasons to choose a traditional funeral:
Opting for a traditional funeral with the help of a professional funeral director can provide structure and lend a dignified air.
You may find additional comfort in the familiarity of a traditional service.

Community members and people who knew the deceased may feel more comfortable with paying respects in this traditional way.
After the burial, you have a place (burial plot) to visit and remember.
Reasons to choose cremation:
Timing of the service can be of your choosing.
You have more flexibility in final placement of the ashes -- scatter at a special place, keep at home, or bury.
Cremation has a lesser impact on the environment.
Talk to family members to discuss your options and plan what feels right for your situation. Each family has its own needs and goals when making funeral arrangements including cost, time frames for services, community norms, religious beliefs, environmental concerns, etc. For more helpful tips and information, see the additional blog posts below.