Quick Answer: If you're purchasing an urn for an adult the quickest answer to this question is Adult Urns and Standard Sized Urns are the most common urn sizes for adults.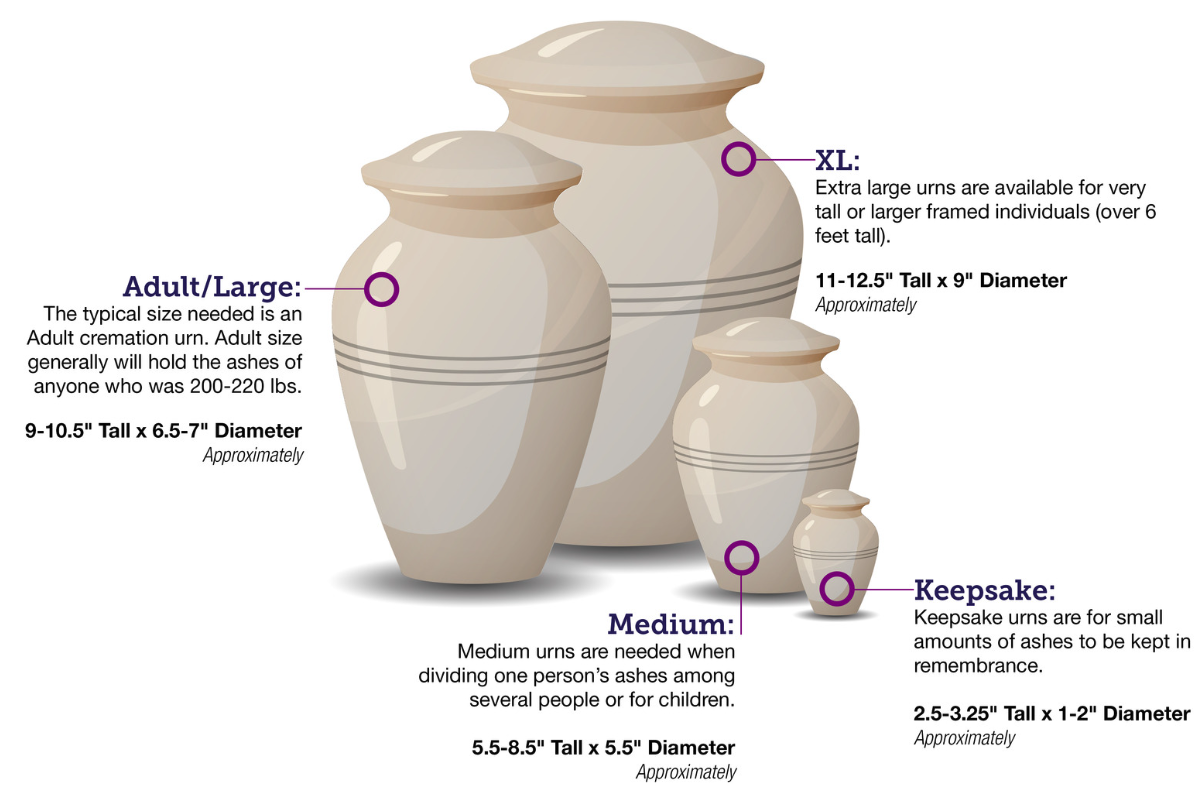 What size cremation urn do I need? - Quick Guide
Adult Urn - Fits the majority of Adults - Most Common
Keepsake Urn - Small amount of shared ashes
Small and Medium Urn - Shared ashes or young children -not small adults
Extra Large Adult Urn - Tall or large framed adults
Urns for Two - Combined ashes of Multiple people
Note: If you're using a niche in a church or columbarium, you'll need the specific dimensions of the niche.
Keep scrolling for more details on choosing the right urn sizes for adults, youth and shared ashes.
---
Check out our helpful video: What size cremation urn do I need?
---
2 Things you Need to Know Before Selecting Your Urn
Capacity | What amount of ashes need to be stored?
A good starting point is to find out what your loved one weighed before cremation. Each pound of weight will equal one cubic inch of ashes after cremation occurs. For example, if the person weighed 180 pounds before their death, then you will need an urn that can hold 180 cubic inches or more of ashes.

Dimensions | Does the urn need to be a specific size?
If you are using a niche in a church or columbarium, actual dimensions of the urn -- height, width, diameter are important. Some columbariums have very compact niches, so we encourage you to find out the niche size before choosing an urn. Other columbariums have family niches -- like family cemetery plots -- with room for larger urns or multiple urns. We have a great selection of urns made specifically for Niche burial. Confirm the dimensions of your niche, before purchasing your urn.
---
Overview of Urn Sizes
Standard and Adult Sized Urn - Most Common
Adult Urns, sometimes referred to as Large Urns, are the most common urn size for adult remains. Anyone weighing less than 220 lbs or shorter than 6 ft before cremation will fit in a standard adult urn.
Extra Large Adult Urn
Extra Large Adult Urns are best for adults over 6 ft tall or with a large frame.
Small Urns and Medium Urns
Small and Medium Urns are best when dividing one person's ashes among 2 or more people as well as for young children. This is the best size if you're wondering what size urn do I need for a baby. Note: Small and Medium urns are not used as a single vessel for adult remains regardless of height or weight before cremation.
» MORE: Shop our Most Popular Urns at any size!
Keepsake Urn or Mini-Urns
Keepsake urns or mini urns, are best for holding a small amount of ashes in remembrance. Keepsake urns are a popular option when dividing ashes amongst children, grandchildren, or friends.
Urns for Two - Combined ashes
Urns for Two, sometimes referred to as Companion Urns, Double Urns or Double Internment, are used when combining two people's ashes into a single urn.
Tealight and Memorial Candle Urns
A tealight urn has a compartment for holding a portion of a loved one's ashes topped with a glass votive or other holder for the candle of your choice. Many people find that lighting a candle allows them to express their love and remembrance, and that the ritual can be comforting.
---
Helpful Resources